Dr Sarah Meiklejohn honoured by UC San Diego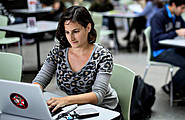 Dr Sarah Meiklejohn, a lecturer in the department and member of the Information Security group, has been honoured by the University of California San Diego. In recognition of the outstanding PhD dissertation she completed there in 2014, she has been awarded the 2015 Chancellor's Dissertation Medal.
Her dissertation, "Flexible Models for Secure Systems", proposes methods to track real-world cyber criminals. Professor Mihir Bellare, who recommended Meiklejohn for the honour, said that the results of her thesis "has shaped government policy". He added "the thesis introduces an innovative new experimental technique to track Bitcoins that were used not only to obtain the thesis results, but is now used as a key forensic tool by law enforcement".
He emphasised that Meiklejohn "did it all herself: She alone conceived the idea and methods and pushed it through from algorithms to reality".'